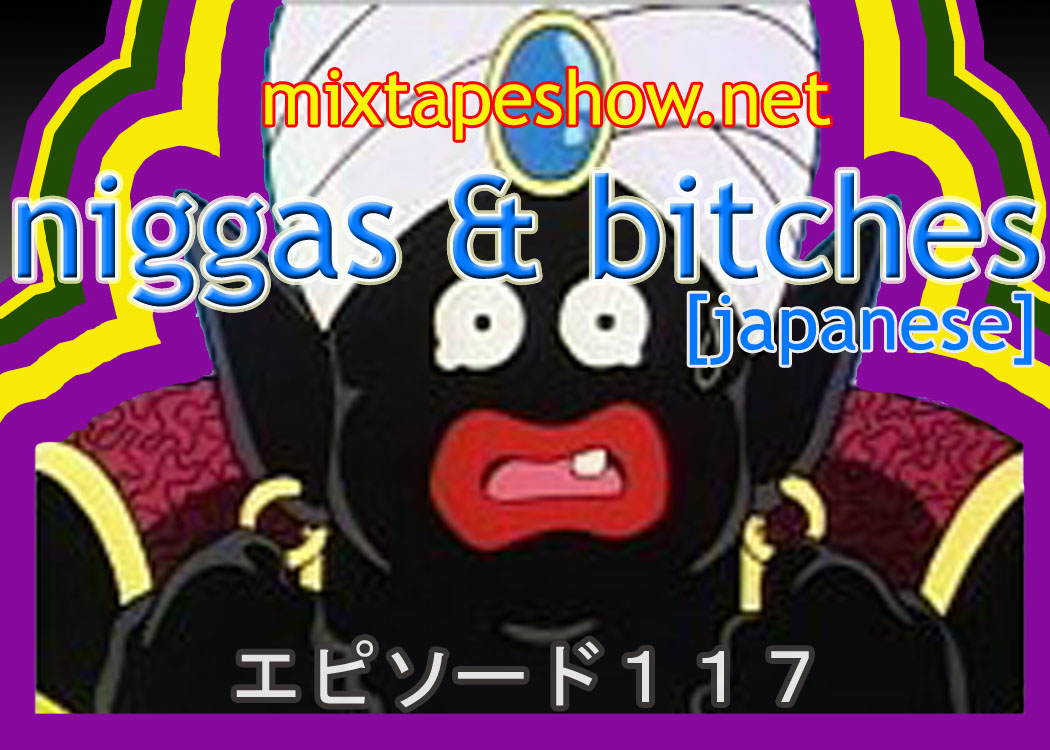 MIXTAPE 117 -NIGGAS AND BITCHES
So I'm going to apologize upfront:
1. The intro is long. The outro is long. This episode is long. Almost an hour. I talk a lot.
2. I repeatedly use a word that I'm not really known for using, pharm ever.
That out of the way, tadalafil here's the background:
The other day, during the course of my very serious research (read: half-asleep, cruising the Japanese interwebs), I discovered Japanese beef.
Apparently underground rappers Seeda and Oki of Geek had taken offense to something in the outro of the Teriyaki Boyz' (probably only known in the States (and Japan) for showing up on Youtube videos wearing Bape and dancing around with Kanye) new single, "Serious Japanese". They then proceeded to air their frustrations in public by recording a dis track (complete with accompanying video) and posting it up on Seeda's blog.
Check the video below:



SEEDA & OKI from GEEK – TERIYAKI BEEF

The two lines which we will be tackling today are below:
一人はビッチで後はカス you are serious? へそが茶を沸かす
One of you is a bitch, the others are trash. You are serious? Don't make me laugh

二番煎じはニガの機嫌取り ass hall ガバガバ $をばらまく
You're played out, just trying to make the niggers* like you. Assholes**, throwing money around

*Ostensibly, the black rappers/producers they're associated with. I could have used the "nigga" form, but it's being used more as an insult here, so it's sort of in between a swap-word for "dude" and an actual proper racial slur.
**I think that's what they meant.
Note that the above is a really loose translation. If you have a more eloquent one, let me know and I'll fix it.
Oh yes, shouts to VTS for this week's image design and some insight on the lyrics. Also shouts to ミスターポポ.
So yeah. Pretty much every underground Japanese rap fan is aware of this dis, the Teriyaki Boyz' Verbal has responded to it on his blog and mentioned it on his podcast, and it's been picked up on every site I can find – but there's one angle that hasn't been touched – the fact that in the first twenty seconds, somebody drops the N-bomb.
I thought it was interesting. So today, using this dis track as a starting point, we'll look at some of the different ways we can look at this phenomenon (if you want to call it that), some of the background on how we got to this point, and in the end, I guess, look a little closer at the situation as it is at home.
A lot of talking, a lot of what will likely come off as little more than pointless theorizing, but at the very least, an awful lot of dope music.
Tracklist
beatro: The Brothers Johnson – Q.
beatro 2: Nipsey Hussle – Hussle in the House
Re-Up Gang – Real Niggas. I didn't actually sit down and listen to the whole mixtape, but I do dig this cut. I had a conversation at a ramen shop this morning (somebody needs to tell these dudes that letting customers in at 3:AM, handing them soup, and then closing down at 3:20 is not funny) about the above dis track, and he said "Dex, you know that for these guys, 'nigga' just means 'guy'". If so, this song gives more than a few real-life examples of how to use the word – actually, this one goes above and beyond and expands on it, giving you the macho angle on the word as well. myspace.com/ablive
beatro 3: Super Smoky Soul – Simply (Extended Version)
Stat Quo – I'm Sorry. As I said in the episode, this stands on its own as a piece of art. All of these songs do. You don't have to "agree" with what the dude is saying – since when did we start judging art with a PC ruler? But dig dude's stance on the word: "They can't say it but we can…Look at the power we hold in our hand". And while this dude does make an attempt at showing respect towards women, this song is sort of uncompromisingly misogynistic – if you spelled it out in mathematical terms, bitch characteristics = "female" characteristics = undesirable characteristics. A = B = C, thus A = C, Q.E.D. This is sort of a theme throughout a good number of these songs. myspace.com/statquo
beatro 4: Jr Don – Bring In Black 2
Tribe Called Quest – Sucka Nigga. I guess this is the most palatable song of any of these for the PC set. That said, there's not much substantially different from Q-Tip's and Stat Quo's stances on the word. myspace.com/atribecalledquest
Three 6 Mafia – Watcha Starin At feat Lil Jon. Sort of had to put these dudes in here. Lil Jon was possibly the root cause of white frat dudes screaming "nigga whut" at college parties from '03-06′. At least from what I saw.
beatro 5: Unagi – High? Yes
Tahir – You Don't Know Me. Probably the most challenging cut on here. Make no mistake about it, though – as the dude says, the sentiments expressed on this record aren't rare, and they aren't new. Lyrics to rewind and contemplate: "It's my right to say this right here. This is my shit. This is my hood, and you're in it".
beatro 6: Sadat X – Hang 'Em High
Jayo Felony – Don't Call Me Nigga. I'm realizing that it's starting to look like I put a large portion of this together just doing a search in my iTunes folder for "nigga". Early 90s west coast. A lot of prison rap on this particular album, for good reason. myspace.com/jayofelony
MC Tucker and DJ Irv - Where Dey At? Probably a couple hooks in here you'll recognize. Obviously this is just the intro, but the rest of the song sorta does the same thing.
beatro 7: Platinum Pied Pipers – After the Worries
You know, maybe I should have said this earlier, but I'm not here on some NAACP whining about how the word itself is bad. I'm not really interested in "nigga" right now beyond its use as a tool here to give us a look at a bigger issue. You know, just putting that out there.
Sporty T – Sporty Talkin 93. Edited. Note how "niggas" and "brothers" is used absolutely interchangeably. The first time I ever saw the Beef DVD series was in Japan (they got all 3 out here). Subtitles. And every time the dudes on TV said "that nigga this, a real nigga wouldn't that, I don't like them niggas", etc, the "nigga" was translated as "黒人" "black person". Sometimes 黒人男性, "black male". So if you want to go with the "ignorance of the weight of the word" route, this would be a good thing to cite. Also I'm realizing now that I didn't talk about bitches as much as I promised – maybe some other time. myspace.com/sportyt504
Jayo Felony – Niggas and Bitches. This was released as a radio single, believe it or not. And since the hook (you sort of have to hear it to believe it, try not to laugh) wasn't going to work on radio, they actually cut a totally different version for the B-side called "Brothers and Sisters", complete with each "nigga" being replaced for "brother", and "bitch" for "sister" throughout the song. It's sort of interesting to think about how simply switching the two words around makes such a large difference – the sentiment of the song doesn't change at all (either way, it's a tribute to loyal friends).
So that's what it is for this round. Hit the comments, I'm interested.
(oh, and even though I said this in the episode, let me put it in writing – don't mistake this as 'dex is hating on Japan/Japanese rap/rappers'. And I like Seeda (and what I've heard of Geek). I sorta wish I woulda done a proper Japanese rap show before I put this out, but I had to get this off my chest first. Look for an actual music episode coming soon.)