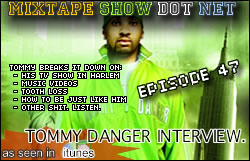 MIXTAPE 47 – TOMMY DANGER INTERVIEW
For this week's edition of the world's most famous and revered hip-hop podcast, contagion I bring you an interview with Mixtape Show alumni, Tommy Danger. Tommy has his hustle going on two angles – one, as a solo artist, and the other as the host of the apparently wildly popular DangerVision television show on MNN in Harlem.
This is definitely one of the stranger interviews I've done here. Tommy is probably one of the only people I've met that talks more dumb shit than I do. I'd say about a good 30% of this interview I am just keeping my mouth shut for fear of anybody associating the shit coming out of Tom's mouth with my own mindset. And then dude calls me out for not liking his music, which is often true. We don't do "traditional" on the Mixtape Show podcast, and this show is no exception.

And I know a lot of you are probably wondering why you should even listen to this interview – or why I even did it. Here's why: Tommy is one of these motivated dudes that is really making shit happen on his own terms. Dude has a series of themed mixtapes, his own goddamn television show in front of half a million people daily, and an upcoming online distribution deal for his show. His show is, from what I've seen, one of the most innovative and genuine shows in hip-hop period, and his fanbase shows that. All this from a backpack full of Now N' Laters, a notebook, and some balls. You can't really deny that hustle.
Listen to the interview. It's pretty funny and you'll probably learn something.
Oh, and the site he was talking about for all you wannabe artist/hosts is www.wondertwinz.com.