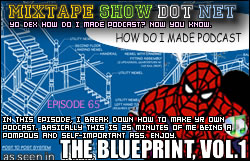 MIXTAPE 65 – THE BLUEPRINT – HOW TO PODCAST
So this episode features absolutely no rapping. Yep.
I get a lot of email and IMs from people asking me how I do my show, phthisiatrician what sort of software I use, how I get new music, and so on. So here's yet another spinoff series (how many are there now? damn): The Blueprint. In Vol 1, we're going to be covering how to start up and approach your very own podcast, from the mechanics to your own mindset.
A lot of this is philosophical and theoretical, so if that doesn't interest you, that's fine. You can just listen to me talk over the beats. As an added bonus, almost every bit of software I recommend in this show is free.
Here's the beat tracklist:
Capital D – Blow Instrumental [Intro]
Verse – G Wilikers Instrumental [Gmail]
O.C. - Yes Sir Instrumental. [Audio Editor]
Critical Madness – Meal Tickets pt. 2 Instrumental [Feedburner]
oh come on now you know who this is. [Blog]
Morcheeba – Post Houmous [Network]
Judah Christ – Unheard Of [Originality]
Omni – Baterie Instrumental [Skype]
The Prodigy – Firestarter Instrumental (sample) [FTP Client]
J Dilla – Over The Breaks [Consideration]
John Fahey – My Shepherd Will Supply My Needs (sample) [Independence]
Brother Ali - Truth Is Instrumental [Individuality]
J Dilla - Love Jones [Responsibility]
Mark O'Connor – Opus 14: False Dawn (sample) [Microphone]
Baba & Yako – Feel The Change [Outro]
And that's it for this week. Hit up the comments section and let me know what you think. Oh yeah – there'll be another music episode coming out in a few days, for those of you that were freaked out from the break in format here. (And keep in mind – these tools work for whatever kind of show you want to do – not just a hip-hop podcast!)
Software mentioned in the show: (free unless otherwise stated)
FTP Clients –
Cyberduck
[mac],
SmartFTP
[pc]
Internet Phone –
Skype
(you need to buy credit to call outside lines)
Voice Recorders –
Audio Hijack
(free version available) [mac],
HotRecorder
($25ish)[pc]
Audio Editors –
Audacity
[all platforms],
Garageband
[mac],
Adobe Audition
(expensive) [pc]
Feed Management –
Feedburner
Gmail –
Gmail
. Come on son.
Blog –
WordPress
.