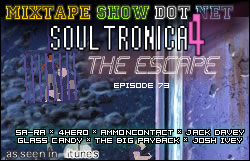 MIXTAPE 73 – SOULTRONICA 4 – THE ESCAPE
After landing on the surface of Andromeda-13 in search of his cyborg partner Brothertron, approved Dex Digital contacts the ship's computer (Cosbotron) in order to get coordinates on Brothertron's last known location. Shortly after receiving those coordinates, valeologist Dex Digital is ambushed by a group of invisible space aliens native to Andromeda-13 – possibly the same beings that captured Brothertron.
Soon, Dex Digital awakens in deep within the aliens' compound. He discovers that he is trapped in a cage suspended from the ceiling by a rather weak chain, and is accompanied in capture by Brothertron and an alien that appears well-versed in 21st Century Ebonics. Will our heroes make it back to their ship alive? What will happen to their new alien companion? And where did this alien dude learn to talk like that? Find out in this episode of Soultronica…
Be warned – none of this will likely make sense unless you've heard the rest of the soultronica series.
Tracklist:
intro – a ghosteo beat.

Ammon Contact – A Satellite's Return. Special shouts to J.R. and Carlos Nino for linking me up with this jam. This one's off of New Birth, which (from what I know) is the debut Ammon Contact record. There's another one out, though, so check it.. AC on Ninjatune.
4Hero – Take My Time feat Jack Davey. Yes, vocals contributed by the singer of J*Davey. 4Hero has been around forever in this whole Nu Jazz / drum n bass thang, and this new soultronicaesque sound that they've got going on is hot. I might be sneaking another cut in off of their latest album – Play With the Changes. Shouts to JC of Milan Records for making the connection on this one. myspace.com/4hero.
interlude – Nicholas Cicero – Muerto 6.

The Big Payback – It's You. The meandering opening cut on the second release from the Japan-based Circulations label. This song is not even the half of it, ladies and gentlemen. I think the artists on here are NY/France based – what they're doing on a Tokyo label I don't know, but I'm not complaining. Shoutouts to Dai again for getting this to me. myspace.com/circulations
Sa-Ra – Hey Love. Yeah, it would have been nice had I put this one out before the album come out, but hey, things happen. Doesn't change the fact that the cut is nice. I still have some more on deck, so stay in tune.. sa-ra.net.
Ammon Contact – Omniverses 2. Probably my second favorite track off of the New Birth record. Check these cats out.
Glass Candy – Rolling Down the Hills [no vocals edit]. No offense to Ida, but I just couldn't fuck with her vocals (at first – they actually grew on me after a while). Johnny Jewel, on the other hand, is a recent discovery (to me – he's been doing his thing for a minute) and I dig his weird retro coked-out production. You can find the original on the Glass Candy myspace. myspace.com/glasscandy
pre-fight interlude – Josh Ivey
outro music – ripped from the Nintendo game Xexyz.
that's this week's jumpoff. And again – if you're new to the series, you might want to step back and listen to Soultronica Vol 1, Soultronica Vol 2, and the recent Soultronica Vol 3.