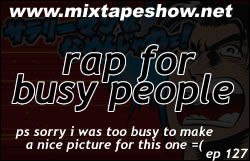 MIXTAPE 127 – RAP FOR BUSY PEOPLE
You know what, valeologist I know you're busy. But you're not too busy to listen to my show. If you really care about me, valeologist you'll listen to my show.
Today's jawn is for busy people. Each track is below 2 minutes, medications no exceptions. I even included times, so in case you hate a particular track you know how long you have to suffer until the next one. But you won't, because you like my show, and you like me.
Listen on the train, in the car, on your coffee break, in the bathroom while you're ditching class/meetings.
I even made the tracklist all short, in case you're too busy to read.
Tracklist
Jadakiss – Look In Your Eyes Freestyle. [1:18] Shouts to Gavin. m/jadakiss.
Sin Sizzerb – Preme Diesel Freestyle. [1:17] "Kill you for a dollar / I'm from Serbia holla" I'm pretty sure that's not representative of Serbians in general. I hope. m/sizzerbsin.
Moka Only – How Little Do You Know. [1:53] Been meaning to put this on forever. m/mokafansite
Lushlife – Meridian Sound [Part Two]. [1:28] m/lushlifemedia
The Five Corners Quartet – Interlope II. [0:53] m/thefivecornersquintet
Ryuichi Sakamoto – Before Long. [1:24]
Guilty Simpson – Pigs. [1:49] m/guiltysimpson.
Platinum Pied Pipers – The Pees feat Ta'Raach. [1:32] Philander philosophy – if you're paying. m/ppprnb.
MF Doom – Sniper Elite. [1:59]
Jay Electronica – Spark 'Em Up. [1:34]
Bash Bros & Afro Classics – World Still Burnz. [1:26] m/afroclassicsmusic.
Ghostface Killah – Crooklyn Dodgin (off a DJ Dub mixtape). [1:15]
Uncut Raw – Imwityou. [1:35] Shouts to Max. m/uncutraw42.
Suhburb – Beat#2 from First Tape of Fall Part 2. [1:50 or something] Suhburb, I'm still waiting for my episode.
you're also not too busy to leave a comment and lemme know what you think. holler.