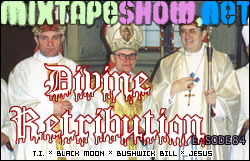 MIXTAPE 84 – DIVINE RETRIBUTION
So there it is ladies and gentlemen. The Podcast Awards results are in, syphilis and the Music award went to a Catholic podcast.
As in we did not win.
I deeply appreciate the support shown by everyone who voted and bugged their friends to do the same, but there's no way I could have expected to pull some stunt like the Religious Studies episode and not expect the big man upstairs to get his in the end. Hope this episode serves as an apology.
Tracklist.
Black Moon – Make Munne. Throwwwwwback. Not quite as scary as some of Mobb Deep's offerings, but dudes kinda make a kid want to lace up their timbs and shank somebody. But hey – still got some social commentary in there. duckdown.com.
Mac Dre – Feelin Like That Nigga. An unreleased joint. I forget where I got this from, and it's certainly nothing you would want to emulate (hear that kids?), but this is one of those cuts that both displays Dre's abilities and is actually palatable to sane people (c.f., for example, the Thizzle Dance). The first time I heard it I thought it was gonna end with him dying, but..well, I won't ruin it for you. myspace.com/thizzentertainment.
Bobby Digital – So Fly. Didn't he say he wasn't doing this Bobby Digital stuff anymore? Not that I mind, RZA can pretty much do anything he wants and I'll still like it. Off the Afro Samurai soundtrack, which all of you should probably own. I still have yet to watch the show though. myspace.com/rza.
Bushwick Bill – Only God Knows. Throwback again. This song manages to be brooding without being actually depressing – the rationalization he gives for staying alive is pretty sobering. I'll admit to not being as up on the Geto Boys as I should be – especially considering I interviewed Willie D not too long ago. Recommendations, anyone? www.myspace.com/therealbushwickbill.
T.I. – Still Ain't Forgave Myself. Throwback city. Damn, this cut is really that good. I didn't catch this when it first came out – I had to be put up on it via cocaineblunts. The other side of the gangster shit – can you dig this too? myspace.com/trapmuzik.
Intro beat – Beewirks – Relentless. I'm going to have to give this another spin on the show just because it is too good for skit material. Somebody holler at this kid. myspace.com/beewirks.
Oh yeah, have to credit the special guests: Walter Crunkite, my publicist Jerry Goldberg, the KKK, and Jesus.
Okay my throat hurts. Hit the comments and blah blah blah.