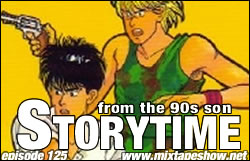 MIXTAPE 125 – STORYTIME IN THE 90s
So yeah, website like this been forever. On one level we have strictly tracks from the 1990s, clinic and on another level we have the art of storytelling coming in at various angles. I've been meaning to do something like this for a minute, so let's get into it.

Introlude: The Pharcyde – Groupie Therapy
Top Choice Clique – Peace of Mind. Apparently this record, produced in 1990, never saw a proper release – until maybe a year ago. Word has it A&M label politics ended in all recorded material being canned, minus a few promo records that Esoteric found, baked in his oven to straighten them out, and well, here we are, 19 years after the fact. I ended up cutting part of this off because it's too long for my tastes, but for those who dig it – go find the original. m/jawnp78.
Royal Flush – I Never Made 20. I remember reading about this cut in a Bun B interview, I think, and the dude was right – this song goes really hard. Anyone who's been listening to rap for more than a week or so knows that some songs just sort of go in one ear and out the other, and others really feel like someone's sitting you down and telling you something and you have to listen. This is one of those songs. m/streetboss.
Psychoward – Rockslangas. I'm probably one of the worst basketball players in the world. m/psychowarddotcom.
Hieroglyphics – Cab Fare. I didn't actually hear this one until maybe like 04 or so, when a good friend of mine introduced me to this song. I used to sit at her house and just play it on repeat. Hi, helen. m/hieroglyphics.
CRU – Just Another Case feat Slick Rick. This is the only song on here that I actually heard when it came out. I remember the video being sort of scary (I mean, I was like 12), when it switched up into that PRONTO PRONTO craziness. The sample on this is pretty great.
Freddie Foxx - Man Destroys Man. Another previously unreleased jawn. Okay, so this is the song I was talking about in the intro. Let me be clear up front – I thought twice about putting this out because I didn't know if people would be able to see past the language here. However – that's actually not even the point here, because if you actually listen closely to the story as it plays out and if you listen closely to some of the clues dude drops in the middle – e.g. "it really was about who was the baddest" is a big one – you'll see what Freddie, regardless of whatever homophobic issues dude is dealing with personally, is actually talking about here (hint: it's in the title). If you think about it in this sense, this is actually a really interesting record. m/theogbumpyknuckles.
The Geto Boys – 5th Ward/South Central Malt feat Ice Cube. So for the few who didn't know, St Ides was running this massive campaign to get as many dark people to drink malt liquor as possible back in the 90s, and a lot of rappers happily signed on. The scary thing is that a lot of these tracks – there's around like 30 of them – including videos for 2 that I know of – were really great. This is only one of them. Shouts to Gavin for reminding me of this. m/getoboysfromthesouth.
So yeah, that's what it is for this week. What's good with you all?
PS: bonus points for anyone who knows what the picture on the episode cover is.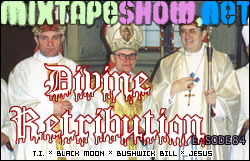 MIXTAPE 84 – DIVINE RETRIBUTION
So there it is ladies and gentlemen. The Podcast Awards results are in, syphilis and the Music award went to a Catholic podcast.
As in we did not win.
I deeply appreciate the support shown by everyone who voted and bugged their friends to do the same, but there's no way I could have expected to pull some stunt like the Religious Studies episode and not expect the big man upstairs to get his in the end. Hope this episode serves as an apology.
Tracklist.
Black Moon – Make Munne. Throwwwwwback. Not quite as scary as some of Mobb Deep's offerings, but dudes kinda make a kid want to lace up their timbs and shank somebody. But hey – still got some social commentary in there. duckdown.com.
Mac Dre – Feelin Like That Nigga. An unreleased joint. I forget where I got this from, and it's certainly nothing you would want to emulate (hear that kids?), but this is one of those cuts that both displays Dre's abilities and is actually palatable to sane people (c.f., for example, the Thizzle Dance). The first time I heard it I thought it was gonna end with him dying, but..well, I won't ruin it for you. myspace.com/thizzentertainment.
Bobby Digital – So Fly. Didn't he say he wasn't doing this Bobby Digital stuff anymore? Not that I mind, RZA can pretty much do anything he wants and I'll still like it. Off the Afro Samurai soundtrack, which all of you should probably own. I still have yet to watch the show though. myspace.com/rza.
Bushwick Bill – Only God Knows. Throwback again. This song manages to be brooding without being actually depressing – the rationalization he gives for staying alive is pretty sobering. I'll admit to not being as up on the Geto Boys as I should be – especially considering I interviewed Willie D not too long ago. Recommendations, anyone? www.myspace.com/therealbushwickbill.
T.I. – Still Ain't Forgave Myself. Throwback city. Damn, this cut is really that good. I didn't catch this when it first came out – I had to be put up on it via cocaineblunts. The other side of the gangster shit – can you dig this too? myspace.com/trapmuzik.
Intro beat – Beewirks – Relentless. I'm going to have to give this another spin on the show just because it is too good for skit material. Somebody holler at this kid. myspace.com/beewirks.
Oh yeah, have to credit the special guests: Walter Crunkite, my publicist Jerry Goldberg, the KKK, and Jesus.
Okay my throat hurts. Hit the comments and blah blah blah.