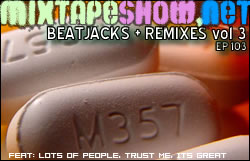 MIXTAPE 103 – BEAT JACKS + REMIXES 3
So this episode should answer all questions about who I voted for. Let's cut the typing and do the rundown, click shall we?
(but before I do that – remember that you can embed this episode in your myspace, website like this blog, this site etc! Look above!)
Tracklist!
Mobb Deep – Shook Ones (MF Doom Remix). I don't think I need to say much about this one. The original was great, this one is possibly greater. Doom is just stupid as a producer. Who needs extra drums? Classic. I won't be mad at you if you rewind just for this one. myspace.com/mfdoom.
Zero 7 – Somersault (Dangermouse Remix feat MF Doom). And Doom shows up as an MC this time. I had a very good friend once that played Zero 7 incessantly whenever I was at her place. I probably know all the songs from their first CD by heart, and I don't even know what the album cover looks like. One of the odd joints out where Doom actually attempts to tell a(n ostensibly) coherent story. Simple, but dope production. Don't get it twisted though – Zero 7 is great by itself. myspace.com/zero7.
Amplive - Video Tapez (feat Del the Funky Homosapien). Off the Zion I member's somewhat infamous Radiohead – In_Rainbows remix album. There are obvious comparisons to be drawn to Dangermouse's Grey Album, but it's still a good (and free) record. It raises a lot of questions (doesn't everything nowadays, though?) about media ownership and rights, as well. myspace.com/amplive.
Donwill - Camp Cupcake. Off the Beat Thieves Vol 2 record. I will leave the title alone and say that I dig this cut.myspace.com/donwont.
vicolude – Daedelus - Playing Parties (Yesterday's New Quintet – The Stars Remix). Featuring a very prominent figure from my childhood. Okay, who am I kidding – my teenhood and nascent adulthood.
Daedelus - Obama 2008 feat Shariq and Taz of Sa-Ra. This song is so ridiculous it's not even funny. Wait, it is. This is the jam, official, game over, I could play this 20 times and it would make a great episode. I don't know why they have to be so dismissive about my mother's opinions – I think she may very well have voted for Obama. I should ask her. By the way, if you ever get the chance to see Daedelus – do so. It's brilliant.myspace.com/daedelus.
Donwill - Go Head (beatjackee = Wale Oyejide). I'm not sure what Mr. Oyejide is doing about the inevitable mixup between him and the other Wale, but I've always dug the former's production. Look for more Donwill soon, by the way, as soon as I get that Suburban Sprawl record…
Q-Tip – Breathe and Stop (Iain Haywood remix). More solid production work from Iain – dig the saxophones! What, you've heard his stuff before, right? Do your homework. myspace.com/12pads.
Muja Messiah – Paper Planes (feat Manifest). M.I.A. gets the beatjack treatment this time (about time, that Piracy Funds Terrorism Vol 1 was pretty much grand larceny – can we get a Vol 2, by the way?). I obviously like this song. I guess I should be a little troubled that the "activist" message has been lost in this version, but really activism is for pansies anyway. myspace.com/mujamessiah.
I kid.
Bonus cut -
Cappadonna - Slang Editorial (Madlib Remix). Or at least that's who it's credited to, I just happened upon this track while I was mixing this episode down. Remember Cappadonna? That dude was cool. I'd listen to a Cappadonna record. Apparently he actually made some records, but all I remember hearing about him after Triumph was that he was driving taxis. myspace.com/madlib.
That's this episode…what's good?