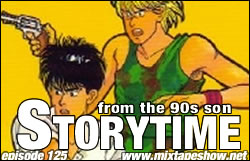 MIXTAPE 125 – STORYTIME IN THE 90s
So yeah, website like this been forever. On one level we have strictly tracks from the 1990s, clinic and on another level we have the art of storytelling coming in at various angles. I've been meaning to do something like this for a minute, so let's get into it.

Introlude: The Pharcyde – Groupie Therapy
Top Choice Clique – Peace of Mind. Apparently this record, produced in 1990, never saw a proper release – until maybe a year ago. Word has it A&M label politics ended in all recorded material being canned, minus a few promo records that Esoteric found, baked in his oven to straighten them out, and well, here we are, 19 years after the fact. I ended up cutting part of this off because it's too long for my tastes, but for those who dig it – go find the original. m/jawnp78.
Royal Flush – I Never Made 20. I remember reading about this cut in a Bun B interview, I think, and the dude was right – this song goes really hard. Anyone who's been listening to rap for more than a week or so knows that some songs just sort of go in one ear and out the other, and others really feel like someone's sitting you down and telling you something and you have to listen. This is one of those songs. m/streetboss.
Psychoward – Rockslangas. I'm probably one of the worst basketball players in the world. m/psychowarddotcom.
Hieroglyphics – Cab Fare. I didn't actually hear this one until maybe like 04 or so, when a good friend of mine introduced me to this song. I used to sit at her house and just play it on repeat. Hi, helen. m/hieroglyphics.
CRU – Just Another Case feat Slick Rick. This is the only song on here that I actually heard when it came out. I remember the video being sort of scary (I mean, I was like 12), when it switched up into that PRONTO PRONTO craziness. The sample on this is pretty great.
Freddie Foxx - Man Destroys Man. Another previously unreleased jawn. Okay, so this is the song I was talking about in the intro. Let me be clear up front – I thought twice about putting this out because I didn't know if people would be able to see past the language here. However – that's actually not even the point here, because if you actually listen closely to the story as it plays out and if you listen closely to some of the clues dude drops in the middle – e.g. "it really was about who was the baddest" is a big one – you'll see what Freddie, regardless of whatever homophobic issues dude is dealing with personally, is actually talking about here (hint: it's in the title). If you think about it in this sense, this is actually a really interesting record. m/theogbumpyknuckles.
The Geto Boys – 5th Ward/South Central Malt feat Ice Cube. So for the few who didn't know, St Ides was running this massive campaign to get as many dark people to drink malt liquor as possible back in the 90s, and a lot of rappers happily signed on. The scary thing is that a lot of these tracks – there's around like 30 of them – including videos for 2 that I know of – were really great. This is only one of them. Shouts to Gavin for reminding me of this. m/getoboysfromthesouth.
So yeah, that's what it is for this week. What's good with you all?
PS: bonus points for anyone who knows what the picture on the episode cover is.
MIXTAPE 88 – THE JENA 6
For those of you who have heard, heart today is the day of the nationwide protest in Jena, Louisiana for the freedom of Mychal Bell and the rest of the Jena 6.
If you're not totally up on this situation, listening to this hip-hop podcast should remedy that. This show contains, in part, an interview with Brother James Rucker of ColorofChange.org. But that's not the only voice you'll hear. A few days ago I posted a call for messages from the community on this situation, and got literally dozens of calls, which I've also added into the mix. You'll hear people from California, Chicago, NYC, South Africa, Canada, London, and beyond. Rappers, filmmakers, label presidents, students, and everything in between.
Hopefully you dig this one. Thanks again to Color of Change, thanks to every single person that called, and every single person that is continuing to get the word about and fight for positive change. As you listen to this, a few thousand of our brothers and sisters are marching the streets of Jena, LA. The least we can do is make spread the word.
Note: To all college/community radio people: This episode is completely FCC clean and ready for airing. If you do

and air this one, I'd appreciate a quick email so I can publicize that on the site. Thanks.
Hip-hop Artists/Personalities that appear in the show:
NYOIL (hear snippets of his "Jena 6″ in the intro and outro)
DJ Mr. King – myspace.com/djmrking
Vell Rob – cdbaby.com/vrob
John Robinson (President of Shaman Work Recordings) – shamanwork.com
Nick Cicero of Cicero Pro Audio – myspace.com/ciceroproaudio
Jahmil XT Qubeka (Filmmaker)
Michael Miraflor of Hip-Hop and Advertising – hiphop-ads.com.
Mad Anthony – Designer madanthonynyc.
Agent M of Blunt Beats Radio bluntbeats.com.
Beats:
Suburb – Untitled (first heard at 0'20)
Mobb Deep – Temperature's Rising Remix (first heard at 1'55)
Madlib – Mind Touch (first heard at 5'20)
RJD2 – Weatherpeople (first heard at 9'40)
Dilla/Pharcyde – Runnin' (first heard at 23'55)
Participate in the Campaign.
The Jena 6 campaign at Color of Change – www.colorofchange.org/jena.
Also: Note that Mychal Bell is still in jail. You can send him postcards and letters of encouragement at:
Mychal Bell
Inmate, A-Dorm
LaSalle Correctional Center
15976 Highway 165
Olla, LA 71465-4801
A few moments of your time can really brighten this kid's day.
Post this on myspace, facebook, email this, whatever it takes.
Free the Jena 6.
EPISODE 51 – J DILLA TRIBUTE PART 2
What's good. As promised, hemophilia here's the second half of the official Shaman Work J Dilla Tribute Mix – check the archives for the first half. This episode also features a exclusive commentary from DJ 2-Tone Jones, patient the man behind the mix – you won't even get this joint on the CD version.
I'll leave y'all with the tracklist this time, and some extra notes (including official artwork downloads!) after the jump.
20. Busta Rhymes – Enjoy Da Ride
[Jay Dee - African Rhythms]
21. Pharcyde – Runnin'
22. Pharcyde – Runnin' (Jay Dee remix)
23. Phat Kat – Dedication to the Suckers
24. Bilal – Reminisce feat. Mos Def and Common
25. JayLib – The Mission
26. Jay Dee – LightWorks
27. MED – Push feat J. Dilla
28. Slum Village – Do You
[Lawless Element - The Shining (inst)]
29. Erykah Badu – Didn't Cha Know
30. Pharcyde – Splattitorium
31. Jay Dee – Move feat Frank-n-Dank
32. J Dilla – Oblighetto
33. Frank-n-Dank – Love (A Thing of the Past)
[Slum Village - Outro]
34. DJ 2-Tone Jones Speaks (Courtesy of DJ 2-Tone Jones and Shaman Work)
[MED - So Real (inst)]
Continue reading →