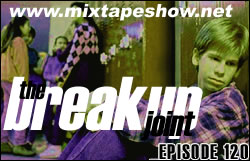 MIXTAPE 120 – THE BREAKUP JOINT
See, no rx a promise is a promise.
Anyway, pills this week, as the title suggests, is the breakup joint. Partially based on real life, partially based on the bizarre phenomenon in which when you're depressed, you want to listen to even more depressing music, and partially based on that urge to just get something off your chest. That said, let's get into the:
Tracklist
introlude – Mos Def – Brown Sugar.
Ta'raach – Hey. You know, this is like that part where you're all "man, forget her, I'm good." You know that phase. Trackwise, I don't know, I've just been meaning to get this one on forever. A lot of the stuff dude says in this track is just really mean-spirited, which makes me like it even more. myspace.com/taraach.
Super Chron Flight Brothers – Once We Were Kings. And then you start to think back. This record kinda reminds me of Airborn Audio. Weird, paranoid subject matter over weird, paranoid beats. Apparently they holed themselves up in a Yogyakarta hotel during the production process, and their weed/skurry noises type antics resulted in an unwritten ban on Black patrons at that establishment. Not sure how I'm supposed to feel about that. myspace.com/flightbrothers.
Malcolm Kipe – My Room Remix. Negativity. Really it was the instro that got me on this one. mk on lastfm.
RJD2 – June (Remix). Aaaand here comes the "why me why me" phase. After the first verse you think it's just going to be a rant on the state of rap music, until the second one comes in. Just too heavy. myspace.com/rjd2
Jay Electronica – Girlfriend. You think about calling her… remember? That always used to work. Not much to say here. It's Jay. myspace.com/jayelect
Albe Back – Without You (dex digi Bohemian Rhapsody Edit). No, she said don't call. It's already over. Give it up, famo, you're just making yourself look bad. Don't lose your cool. Seriously, three bars in I realized I'd heard this chord progression before. You can hate me for doing this, but really my only motivation was that I couldn't stand the original hook. myspace.com/albemusic.
Jay-Z vs Coldplay – What If We Cry? prod Remot. Which gives you more time to think. And now you can finally be a little more honest with yourself. Trying to "keep your cool" was what got you here in the first place. I don't own any Coldplay albums, but I hear from very reliable sources that lots of white people like them. This cut is even more depressing this time around. myspace.com/remotmusic.
People Under The Stairs – More Than You Know. Congratulations, you're now officially "in touch with your emotions". What, you want a medal or something fam? I keep forgetting how dope this group is. myspace.com/peopleunderthestairs.
O.D.B - No More (Wasted Time). But hey, at least you can respect yourself a little more now, right? Right? At least, that's what this cut seems to be called. I know, it's really lo-fi, but this is the only version I'm aware of. A cry for help, man, just too late.
DJ Lt Dan and Jay Z – Interlude b/w Living Proof. … I don't know, this just seemed to fit.
And that's what it is for this week. Bonus points for anyone who can identify the original image I bootlegged to make this week's episode cover.