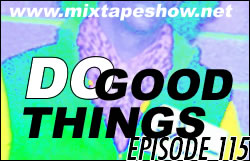 MIXTAPE 121 – DO GOOD THINGS
Here's Johnny? This is sort of a weird story and I'm not sure if it makes any sense the way I'm telling it, sick but yeah. This happened, and is still happening.
Tracklist
Fusion Unltd – The Sun feat Little Brother, Nickelus F, Hall of Fame, and Skillz. A producer that is sort of new to me. Lyrics ain't bad either – "When I write I'm enlightening myself"? That's sort of profound. myspace.com/fusionunltdfup
H.O.P.E – Can't Knock the Hustle II feat Raquel Rodriguez. The vocals are kinda on the edge of contributing and taking away from the cut, but overall I dig. myspace.com/f2dhope.
Caltroit – Goatit feat Elzhi and Bishop Lamont. Off that recent Black Milk mixtape. This dude is sort of dope on the production. And come on, "raise your hands and see stars like King Hippo"? I hope I'm not the only one here who caught that. myspace.com/blackmk.
Jim Jones, Noe, and Tom Gist – Christmas Eve. Aside from dude feeling the need to do adlibs at the end of every bar, this is sort of a great song. myspace.com/jimjones
Rhymefest – Breakadawn feat Daniel Merriweather and alpha. I've dropped one cut from this tape before, but this is seriously a genius project. Don't miss the skits. myspace.com/rhymefest.
Wurd Munchaz – Shakespeare. This is actually one of my favorite groups. If you don't get the reference, I don't know. You don't spend enough time on the internet. myspace.com/wurdmunchaz
Okay, here:


original: marriedtothesea
I mean, come on. A rap song based on an internet joke? What's next?
Cassius Clay – I Am The Greatest. Yes, as in Muhammad Ali. I checked the latest Shaun Boothe Unauthorized Biography joint (you heard the Bob Marley joint here last episode), and he referenced Ali's recording career. Apparently people have referred to his stuff as some of the first battle raps – and really, listening to this, I can't disagree.
John Robinson – Don King. Shouts to JR for linking this one up – been a minute since we've had some of his material on the show. If we spin Ali, it's only fair to spin something about Don King, right? Info about his latest project here: myspace.com/thejohnrobinsonproject.
The Thunderclaps – Judgement Day (short preview edit). Shouts to Charlee for hooking me up with this joint forever ago. I have the long edit, but for some reason I dig the quick pace of this one. myspace.com/thunderclapsmusic.
instros:
intro:
Black Milk – Purple Track 3
outros:
Illa J – DFTF
RJD2 – Unlimited
Scarface – In Cold Blood
So yeah. Go out and do something nice for one of your friends, or for somebody you don't know.